Why The Sky Is Far Away: A Nigerian Folktale (Paperback)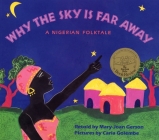 $8.99

Available to ship within 1-5 days
Description
---
The sky was once so close to the Earth that people cut parts of it to eat, but their waste and greed caused the sky to move far away.
About the Author
---
Mary-Joan Gerson has written five books for children. She was inspired to write this story after spending time in Nigeria with the Peace Corps. Mary travels extensively to explore different cultures and discover new ways to see the world, and enjoys sharing that experience with children and adults through her books.

Carla Golembe is an award-winning illustrator, artist, author, and teacher. Her artwork, in a wide range of mediums including acrylic on paper and canvas, gouache, and monotype, has been featured at galleries across the country.