I Can't Believe I Did That: The Game That Gives You Points for Sharing Awkward, Awesome, and Unforgettable Memories: Card Games (Game)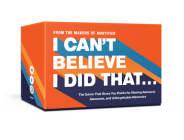 Description
---
From the creators of the celebrated storytelling project Mortified comes I Can't Believe I Did That, the gloriously awkward party game that celebrates all of your weirdest and most wonderful childhood memories!

• Both a party game for adults ages 17 and up and an exercise in empathy and hilarity, this game includes plenty of conversation prompts designed to spark discussions of your most confusing, heartwarming, and totally OMG-worthy moments.
• Reminisce with your friends about such memories as intense pop star crushes, questionable fashion choices, and sobbing at the middle school dance.
• The perfect game to play at parties or your next virtual gathering.

Get ready to laugh, cry, and connect with I Can't Believe I Did That.
About the Author
---
David Nadelberg and Neil Katcher are, respectively, the founder and artistic director of Mortified, a multidisciplinary storytelling project based on embarrassing artifacts from childhood and adolescence, that encourages laughter while building intimacy and empathy.