Skater Baby (Hardcover)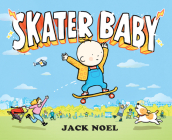 $17.99

Available to ship within 1-5 days
Description
---
In this hilarious picture book debut, a precocious baby sneaks away from her mom, snags a skateboard, and begins one heck of a daring (and disruptive) joyride through the park!

Mom wants her precious little bundle to have some good, safe fun at the park—but Baby has other plans. While her mom isn't looking, the baby crawls away and finds a skateboard. As Skater Baby goes on a fun-filled joyride through the park, she continues to pass one distracted, unsuspecting adult after another and snags something new from each of them (like an umbrella, a clown's nose, and even an unsupervised dog). While her haul steadily grows, so does the crowd of adults who are chasing after. But no one seems to be able to catch the daredevil tyke. And wait, is Skater Baby heading for the huge, scary Mega Ramp?
About the Author
---
Jack Noel is the author-illustrator of two highlly illustrated middle grade series in the UK: Comic Classics and My Headteacher Is an Evil Genius. Skater Baby is his debut picture book and his debut in the US. Jack lives with his wife and children in Walworth, London. Find him on Twitter @jackdraws.
Praise For…
---
★  "Noel's promising picture-book debut combines a witty, well-structured text with clearly delineated, buoyant illustrations. Preschoolers will revel in the barely controlled chaos of the chase scenes. Great fun for reading aloud." –Booklist, starred review

"With the cumulative energy of the Gingerbread Man, Skater Baby races through the park. The buildable details and exaggerated antics lend themselves well to sharing aloud one-on-one or with a group." –The Horn Book