Bonobo Handshake: A Memoir of Love and Adventure in the Congo (Compact Disc)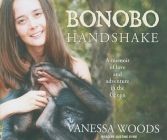 Staff Reviews
---
JUNE 2012
This is an excellent memoir of science, adventure and love written with
humor and intelligence. The author, Woods, follows her new husband as he
pursues his study of the endangered bonobo ape, an ape that shares as
much as 98.7% of our own human DNA. The much-studied chimpanzee is cruel
and competitive, while the recently discovered bonobos, just across the
river, are peaceful and female dominated, using sex to resolve
conflict. The human characteristics of cooperation and sharing, traits
not shared with most animals, set the bonobos apart. This makes for
fascinating reading and is one of the few books available about bonobos.
June 2010 Indie Next List
---
"This memoir left me wanting to donate all my money to Friends of Bonobos. Vanessa has captured the spirit of an animal that so many of us now nothing about. Her writing drew me in from page one and the research about the civil war in the Congo region was just the right amount to not feel like you were reading a history book about the Congo, but enough so you could completely understand the impact that it has had on the Bonobo's. I can't wait for this to come out and for people to be made aware of her cause. I haven't read a non-fiction book before that I felt so drawn to be part of their cause."
— Sarah Galvin, The Bookstore Plus, Lake Placid, NY
Description
---
In 2005, Vanessa Woods accepted a marriage proposal from a man she barely knew and agreed to join him on a research trip to the Democratic Republic of Congo, a country reeling from a brutal decade-long war that had claimed the lives of millions. Settling in at a bonobo sanctuary in Congo's capital, Vanessa and her fiance entered the world of a rare ape with whom we share 98.7 percent of our DNA. She soon discovered that many of the inhabitants of the sanctuary-ape and human alike-are refugees from unspeakable violence, yet bonobos live in a peaceful society in which females are in charge, war is nonexistent, and sex is as common and friendly as a handshake. A fascinating memoir of hope and adventure, Bonobo Handshake traces Woods's self-discovery as she finds herself falling deeply in love with her husband, the apes, and her new surroundings while probing life's greatest question: What ultimately makes us human? Courageous and extraordinary, this true story of revelation and transformation in a fragile corner of Africa is about looking past the differences between animals and ourselves, and finding in them the same extraordinary courage and will to survive. For Vanessa, it is about finding her own path as a writer and scientist, falling in love, and finding a home.
About the Author
---
Vanessa Woods is a research scientist, journalist, and author of children's books. A member of the Hominoid Psychology Research Group, her first book is "It's Every Monkey for Themselves."

Justine Eyre is a classically trained actress who has narrated over two hundred audiobooks. With a prestigious Audie Award and four "AudioFile" Earphones Awards under her belt, Justine is multilingual and is known for her great facility with accents. Her recent television credits include "Two and a Half Men" and "Mad Men."
Praise For…
---
"Don't think that this is just a book about apes. It's a love story, an adventure story, and a political education about a country that has seen more tragedy and inhumanity than you can imagine." ---Adam Hochschild, author of King Leopold's Ghost