Skipper's Cockpit Weather Guide (Spiral bound)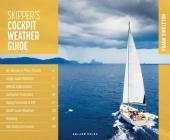 Description
---
With weather conditions continually evolving, skippers need to factor forecast data into every passage plan and be prepared to modify it if the situation changes. This spiral-bound instant reference guide will help you draw the most relevant weather information from a variety of sources, understand and apply broader forecast data to your location and your anticipated route, and know when and how to make those necessary alterations.

In clear, practical language, and with diagrams, photographs, explanations and bulleted lists, the book is also a useful primer or overview for RYA Coastal Skipper and Yachtmaster Offshore students by following the contents of the course:
- Basic terms / the Beaufort Scale
- Air masses
- Cloud types
- Weather patterns associated with pressure and frontal systems
- Sources of weather information
- Interpret a shipping forecast, weatherfax and weather satellite information
- Land and sea breezes
- Sea fog
- Use of a barometer as a forecasting aid

As a reference before sailing, a reminder of what is available for use before going to sea, and a guide to what to look out for and use when sailing, this practical handbook is aimed at skippers and crew of all levels, whether on day cruises or longer ocean-going passages. Spiral bound to lie flat and printed on splashproof paper, it is the ideal hands-on weather-focused passage planning guide, but with lots of tips for use on board it is the essential aide-memoire to have on the boat.
About the Author
---
Frank Singleton is a former Senior Forecaster with the Met Office and is an RYA Yachtmaster with over 50,000 miles under his keel, mainly on the family Hallberg-Rassy 34. He has cruised widely in European and Mediterranean waters and enjoyed 10 Caribbean charter holidays. His weather website for sailors (weather.mailasail.com/Franks-Weather) is known worldwide as an extensive, informed and informative resource for all sea-goers. He has given many lectures to sailors, especially for the Cruising Association and the Royal Yachting Association.
Praise For…
---
"A valuable tool for yachtsmen." - Sailing Today

"helpful for beginners and a valuable aide-memoire for the experienced passage planner." - The Cruising Association