Men Are Like Waffles Women Are Like Spaghetti: Understanding and Delighting in Your Differences (CD-Audio)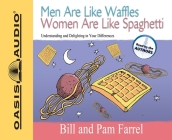 $22.99
Usually Ships in 1-5 Days
Staff Reviews
---
FEBRUARY 2012
I loved this book! It is humorous, insightful, full of detailed and
vivid explanations and some great stories to entertain and enlighten.
The title sounds goofy, but when you start into the book, you will
quickly see how accurate it is. Men are like waffles, because they
prefer to deal with one thing at a time (one waffle square at a time)
and like to keep things fairly simple and straightforward. Women are
like spaghetti, because they have all their ideas and emotions all
tangled together and touching each other (like spaghetti noodles on a
plate), and they are natural multi-taskers. Yes, this is a simplified
version of their explanation, but it's so true!!!
Description
---
Breakfast food or dinner dish? You and your spouse are delightfully different.
Men process like waffles. They think and act by moving from box to box. They enter a box, size up the single problem, and formulate a solution.
Women process life like a plate of spaghetti. Each issue is like an individual noodle that touches every other noodle on the plate. They find it natural to multitask.
In this innovative and fun approach to the differences between men and women, relationship experts Bill and Pam Farrel provide humorous stories, easy-to-understand examples, and clear directions to help you achieve harmony in your marriage. From raising children to divvying up household chores, Bill and Pam reveal practical ways you and your mate can be supportive of each other and create a dynamic marriage.
About the Author
---
Bill Farrel and his wife, Pam, are the cofounders and codirectors of Masterful Living, an organization that provides practical insights for personal relationships. The Farrels are also regular relationship columnists. As coauthors, their books include Men Are Like Waffles - Women Are Like Spaghetti, The 10 Best Decisions Every Parent Can Make, Every Marriage is a FixerUpper, and RedHot Monogamy. They have been married nearly 30 years and have three children and a daughter-in-law.