Mid-Michigan Modern, Expanded Edition: From Frank Lloyd Wright to Googie (Paperback)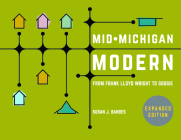 $39.95
Email or call for price
Description
---
Featuring 36 new illustrations

From 1940 to 1970, mid‐Michigan had an extensive and varied legacy of modernist architecture. While this book explores buildings by renowned architects such as Frank Lloyd Wright, Alden B. Dow, and the Keck brothers, the text—based on archival research and oral histories—focuses more heavily on regional architects whose work was strongly influenced by international modern styles. The reader will see a picture emerge in the portrayal of buildings of various typologies, from residences to sacred spaces. The automobile industry, state government, and Michigan State University served as the economic drivers when the mid-Michigan area expanded enormously in the growing optimism and increasing economic prosperity after World War II. Government, professional associations, and private industry sought an architectural style that spoke to forward‐looking, progressive ideals. Smaller businesses picked a Prairie style that made people feel comfortable. Modernist houses reflected the increasingly informal American lifestyle rooted in the automobile culture. This expanded paperback edition adds over twenty architect-designed residences along the various rivers and creeks that traverse the area as well as on man-made lakes, and introduces several popular architectural designers not previously discussed. The epilogue briefly considers disappearing modernist inventions and buildings. With a detailed narrative discussing more than 150 buildings and enriched by 186 illustrations, this text is a vibrant start at reclaiming the history of mid-Michigan modernist architecture.
 
About the Author
---
SUSAN J. BANDES is professor emerita of art history at Michigan State University and director of museum studies. She served as director of the Kresge Art Museum from 1986 to 2010. 
Praise For…
---
Bandes has compiled a richly illustrated compendium of modern architecture in the Lansing/East Lansing area—including designs never built, low-cost cooperatives, homes, a grocery store, and Lansing City Hall. By sharing the human stories behind the buildings, from architects and clients to church committees, she also provides a valuable illustration of the way modern design concepts and materials of the post–World War II era spread from national architects and early adopters to such mundane aspects of everyday life as Dawn Donuts.—Sandra Sageser Clark, director, Michigan Historical Center