The Photographer's Guide to Drones, 2nd Edition (Paperback)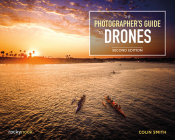 Description
---
Learn to master your drone--the gear, the technique, the photography, the video--and create jaw-dropping visuals
Over the last few years, drones and quadcopters have become the hottest new gear in photography, whether you're a professional photographer or an amateur shooter. These "flying tripods" have given photographers the ability to place their cameras virtually anywhere they want, creating still images and video footage that was previously impossible to capture. Many photographers have a drone or quadcopter right at the top of their "I want" list. And many others have already purchased a drone but haven't mastered its use yet.
No matter what model you may own--whether that's a popular Mavic, Mini, Air, or Phantom from DJI, or another brand--you need to learn how to put this new gear to good use in your aerial photography. You need to learn how to safely operate and fly a drone, how to create compelling photos and video, and how to make your work stand out from the crowd.
In this fully updated and revised edition of the bestselling first edition, photographer and bestselling author Colin Smith guides you toward mastering your drone and creating powerful and impactful imagery. Featuring his award-winning and beautiful aerial photography throughout the book, Colin will teach you:
- How to fly a drone, including practice flight patterns and controller tips that will help you master the basics
- New rules of composition for aerial photography as they apply to drone and quadcopter imagery
- How to create the best files for both still photos and video
- Post-processing techniques--both basic workflow and advanced techniques--unique to aerial photography that you need to know, such as how to make videos look both dynamic and smooth
You'll learn everything you need to know about drones and quadcopters in order to take your photography to new levels...literally
Table of Contents

Chapter 1: Safety and Regulations Chapter 2: Drones and Gear Chapter 3: Flight School Chapter 4: Shooting Photographs with a Drone Chapter 5: Shooting Video with Drones Chapter 6: Basic Photo Workflow in Lightroom or ACR Chapter 7: Advanced Photo Editing Chapter 8: Editing Aerial Video Parting Words Index
About the Author
---
Colin Smith is a best-selling author, trainer, and award-winning digital artist and photographer. His newest obsession is with drones, quadcopters, and aerial photography. Colin is an Adobe Community Professional (ACP) who has authored or co-authored nearly 20 books on Photoshop, including the best-selling How to Do Everything with Photoshop. He is also the founder of one the world's most popular Photoshop resource websites, PhotoshopCAFE.com, which boasts over 30 million visitors. He is a regular columnist for Photoshop User magazine, and has been featured in most major imaging magazines including Computer Arts, Photoshop Creative, Digital Photographer, and many more.